Potassium Carbonate Granular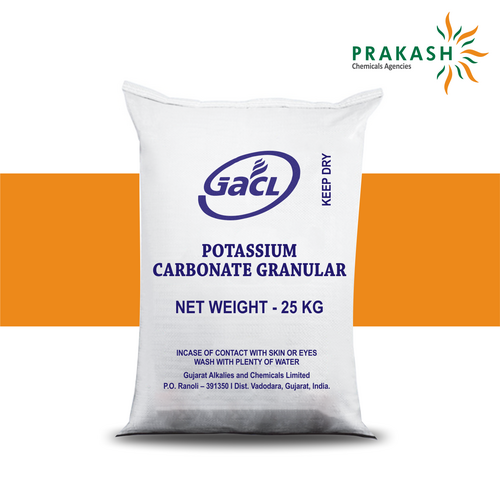 Potassium Carbonate Granular
Product Description
Potassium Carbonate Granular
Backed by the rich industry experience and knowledge, we are providing excellent range of Potassium Carbonate Granular. At our premises, this chemical is available at best affordable price. We have processed this granular by using prominent quality components. Our team of quality controller checks the entire range on various quality parameters so as to make sure that our clients must receive flawless range of products. Our range of Potassium Carbonate Granular is available at very competitive prices and in different quantity packing to suit the divergent demands of our clients.
EXCLUSIVE FEATURES
Soluble in water and insoluble in Alcohol
White, Deliquescent inorganic compound
Available in Granules and powder form
Melting Point 891OC and specific gravity of 2.428 at 19OC
APPLICATIONS
Fertilizer Industry
TV Picture tubes
Pesticide Industry
GLS lamps and Ophthalmic glass
Dyes industries and other Potassium based chemicals
Rubber Chemicals
Drugs and Pharmaceutical Industry
ADVANTAGES

Product is made from Caustic Potash Lye from Membrane Cell Technology with Mercury free quality
Guaranteed minimum 99% purity and chemically stable Potassium Carbonate of international quality.
QCD is equipped with most modern instruments to analyze special tests also on request
SPECIFICATIONS
Characteristic

Specifications

Assay as K2CO3 (on dry basis)

%

99.00

min

Free Alkali as KOH

%

0.2

max

Bi Carbonate as KHCO3

%

0.40

max

Chlorides (as KCL)

ppm

105.00

max

Iron (as Fe+++)

ppm

10.00

max
Caution: Decomposes when heated, emiting toxic fumes
PACKING AVAILABLE:

25 Kg & 50 Kg HDPE woven bags with Inner Polythene liner.